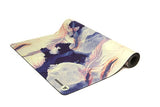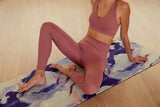 Yoga Towel: MOROCCAN FEATHER
YOGA MAT SALE! Get 30% OFF with code 'YOGA30' ~ Limited time only
If you sweat during Pilates or yoga, chances are you have had to *deal with an annoying sweat towel.
*Deal with = bunching, moving, sliding on, etc.
It's extremely distracting, which is why we designed this non-slip yoga towel to help make your workout or yoga session as distraction-free as possible.
This yoga mat-sized towel goes on top of your yoga mat, with its non-slip rubber side down to keep it stable on the yoga mat. The towel has super-grip on the top surface, which helps to keep your poses solid and deep.
This lightweight beauty can also double as a travel yoga mat, or an on-the-go yoga mat to put on top of the studio-provided yoga mats.
Doubles as a lightweight travel yoga mat
Suitable for all types of yoga and Pilates
Super absorbent surface

An extra 

layer of non-slip grip
Folds up to fit in your handbag
Super lightweight
High-density

 

materials that support joint stability
Non-slip underside to prevent slipping on your yoga mat
Eco-friendly

 

and sustainable
Biodegradable and recyclable
No harsh chemicals, PVC or latex. 100% non-toxic
Machine washable 
Yoga Towel: 1mm thick black underside, 61cm x 173cm, 900g
UNDERWEAR:
Treat with care: Cold machine wash with friendly detergent. Wash like colors together. Hang out to dry. Do not bleach or iron.
YOGA MATS & TOWELS
We recommend machine washing towels and yoga mats a couple of times a year to maintain freshness. In between machine washes, just spray with a cleaning solution and wipe down with a cloth or sponge. We recommend a natural cleaner such as a few drops of eucalyptus oil in water. 
WASHING INSTRUCTIONS: For yoga mats, towels and totes put the item on a gentle cycle on its own with a little bit of washing powder. 
Hang out to dry. Its better for the item and the environment. 
INVISIBLE ACTIVE UNDERWEAR:
AU / UK SIZE CHART (Measurements are in centimetres). 
| | | |
| --- | --- | --- |
| SIZE | Pant Size  | Hips (cm) |
| XS  | AU 6 | 84 - 89 |
| S | AU 8 | 90 - 95 |
| M | AU 10-12 | 96 - 104 |
| L | AU 14 | 106 - 110 |
| XL | AU 16-18 | 111 - 113 |
| 2XL | AU 20 | 114 - 120 |
 

How to measure your hips: feet together and measure around the fullest part of your hips.

 

YOGA MATS:

Classic Yoga Mats: 3mm thick black underside, 61cm x 173cm, 2kg

XL Yoga Mats: 3mm thick black underside, 61cm x 190cm, 3kg

Kids Yoga Mats: 3mm thick black underside, 61cm x 154cm, 1.5kg

Cork Yoga Mats: 3mm thick black underside, 61cm x 183cm, 2kg

Yoga Towel: 1mm thick black underside, 61cm x 173cm, 900g

Liquid error (layout/theme line 134): Could not find asset snippets/preorder-now.liquid